Our guide to the greatest LGBTQ+ musicals

The greatest LGBTQ+ musicals
01-06-23
We list the important shows with LGBTQIA+ themes that have shared histories, celebrated communities, given strength, touched, entertained and uplifted audiences across the world.
🎭
❤️
🧡
💛
💚
💙
💜
🤎
🖤
🤍
🎭
Hedwig & The Angry Inch (1998)
This unique, iconic production was created by John Cameron Mitchell and Stephen Trask. It opened Off-Broadway in Feburary 1998. Both the play and the subsequent movie earned a number of awards.
And then years later it hit Broadway with Neil Patrick Harris in the lead and rightfully earned a Tony for Best Revival.
Standout tracks: Sugar Daddy https://www.youtube.com/watch?v=uIaFn5lsLd8
Midnight Radio: https://www.youtube.com/watch?v=iefvEL1E46o
Everybody's Talking About Jamie (2017)
Jamie New is sixteen and lives on a council estate in Sheffield. Jamie doesn't quite fit in. Jamie is terrified about the future. Jamie is going to be a sensation.
Supported by his brilliant loving mum and surrounded by his friends, Jamie overcomes prejudice, beats the bullies and steps out of the darkness, into the spotlight. This 'Funny, outrageous, touching' (Daily Telegraph), musical sensation is to be experienced by all the family and not to be missed!
With an original score of catchy pop tunes that will 'blow the roof of the Theatre' (Mail on Sunday) by lead singer-songwriter of The Feeling, Dan Gillespie Sells and writer Tom MacRae (Doctor Who), this 'Sparking coming-of-age musical' (The Times) will have everybody talking about Jamie for years to come.
If all parents could show the love, compassion and support to their children that Margaret does to Jamie the world would truly be better place.
A highlight in the film version was the moment that retired drag queen Hugo played by Richard E Grant takes us back to a different time – a time of protest, fighting for rights, and losing loved ones in the most unimaginable ways. This Was Me is another powerful song, and together with Holly Johnson.
Standout tracks: My Man, Your Boy https://www.youtube.com/watch?v=tsc2HoFRUTI
This Was Me https://www.youtube.com/watch?v=55n2nuWreio
Avenue Q (2003)
This musical brings a wonderful street to life packed full of people living side by side with puppets who love and support each other – sound familiar? one of the highlights is this sweet duet where straight puppet Nicky sings a message of support to his closeted housemate Rod.
Standout track: If You Were Gay https://www.youtube.com/watch?v=D9jNnDovrw8
A Letter to Harvey Milk (2012)
This beautiful show set in 1980's San Francisco has recently been released on Broadway Records.
What could Harry, an amiable but lonely retired kosher butcher have in common with Barbara, his young lesbian writing teacher at the senior center? Is it enough to bridge the divide? When Harry fulfills a writing assignment to compose a letter to someone from his past who's dead, he writes not to his late wife Frannie, but to Harvey Milk, the first openly gay political leader in California. Barbara is stunned. Harry's letter evokes life-changing revelations that neither could have foreseen. This musical — with its soaring score and deeply-felt, surprisingly funny lyrics — deals with issues of friendship and loss, the grip of the past, and the hard-won acceptance set in motion by the most unexpected people.
In our standout moment, Barbara, a young writing teacher shares the story of her first love and heartbreak.
Standout track: Love Is A Woman https://www.youtube.com/watch?v=OTkNoV-3iEM
Closer To Heaven (2001)
Jonathan Harvey and Pet Shop Boys' magnificent musical moment burned brightly and briefly. There have been a few remakes over the years but we really hope there's a proper UK tour one day. A few of the songs from the musical featured on PSB's Nightlife album, including 'In Denial' with Kylie Minogue.
Frances Barber's character Billie Trix went on to have a one woman musical of her own – also created by Neil Tennant and Chris Lowe called Musik – and some of the songs from Closer To Heaven made the jump too, including Friendly Fire.
Standout tracks: In Denial https://www.youtube.com/watch?v=AlHj3B6O8y0
Friendly Fire https://www.youtube.com/watch?v=RVLWp_2jODY
Priscilla: Queen of the Desert (2006)
This is easily one of the most uplifting jukebox musicals you could ever hope to see. Based on The Adventures of Priscilla, Queen of the Desert film, this musical was created by Stephan Elliott and Allan Scott. It's a tale of two drag queens and a trans woman who take the ultimate road trip across Australia, discovering more about themselves along the way.
Standout track: It's Raining Men https://www.youtube.com/watch?v=DlEaTASJohc
tick… Tick… BOOM! (2021)
Created by Lin Manuel Miranda this Oscar nominated show has Andrew Garfield playing Jonathan Larson, the legendary creator of Rent who sadly died right before it opened in 1996. it's been a Matinee favourite since the day it was released.
Standout track: 30/90 https://www.youtube.com/watch?v=kCt1MWLel1Q
Fun Home (2013)
A huge Broadway hit, the production won five Tony Awards. It's adapted from the Alison Bechdell's memoir, and we don't think there are many songs that capture childhood feelings so beautifully – We've all been there, trying to navigate through our feelings for other people – and when you experience them for the first time – in Ring of Keys Alison describes it better than we ever could.
Standout track: Ring of Keys https://www.youtube.com/watch?v=wMJvLTZOhpE
La Cage Aux Folles (1983)
The 1983 Broadway production broke barriers, and won many awards. It's portrayal of a gay relationship has been celebrated in many revivals over the years and there's no denying that 'I am What I Am' isn't only the show's showstopper, it's an anthem.
Standout track: Ginger Minj's live performance for an emotional Harvey Fierstein, with the cast of Ru Paul's Drag Race All Stars 2 https://www.youtube.com/watch?v=vHPj3cH8VJU 
The Color Purple (2005)
We love how Miss Celie (Cynthia Erivo) is shown her true worth by Shug Avery (Jennifer Hudson) – for the first time in her life someone has shown the tenderness and kindness she deserves all the way through a tough first act. It's such a beautiful story.
The Color Purple is an unforgettable story of enduring love and triumph over adversity. With a fresh, joyous score of jazz, ragtime, gospel and blues, this stirring family chronicle follows the inspirational Celie, as she journeys from childhood through joy and despair, anguish and hope to discover the power of love and life.
Directed by Tony Award winner John Doyle, the cast is led by Grammy, Academy Award and Golden Globe award winner Jennifer Hudson; Tony, Grammy and Emmy Award winner (and Oscar nominee) Cynthia Erivo; and Orange is the New Black's Danielle Brooks. They are joined by Isaiah Johnson in the role of 'Mister;' Joaquina Kalukango as 'Nettie;' and Kyle Scatliffe takes on the role of 'Harpo,' along with Phoenix Best, Dwayne Clark, Lawrence Clayton, Carrie Compere, Patrice Covington, Adrianna Hicks, Bre Jackson, Grasan Kingsberry, Kevyn Morrow, Ken Robinson, Antoine L. Smith, Carla R. Stewart, Akron Watson, and Rema Webb. Based on Alice Walker's Pulitzer Prize winning novel and the Warner Bros. / Amblin Entertainment motion picture, The Color Purple is adapted for the stage by Pulitzer Prize and Tony award winner Marsha Norman, with music and lyrics by Grammy award winners Brenda Russell, Allee Willis and Stephen Bray. The Color Purple won the Grammy Award for Best Musical Theater Album. Get the soundtrack here.
Standout track: The Color Purple (title track) https://www.youtube.com/watch?v=1DiWTwC6Ek8
A Strange Loop (2019)
We're big fans of Michael R. Jackson here and his musical is so important – following a young gay artist at war with everything but mostly himself AND….in June 2022 it won the Tony for Best Musical!
Usher is a black, queer writer, working a day job he hates while writing his original musical: a piece about a black, queer writer, working a day job he hates while writing his original musical. Michael R. Jackson's blistering, momentous new musical follows a young artist at war with a host of demons — not least of which, the punishing thoughts in his own head — in an attempt to capture and understand his own strange loop. 
Standout track: Memory Song https://www.youtube.com/watch?v=_x5HUpqiqXo
Drag: the Musical (2022)
It was released earlier this year and we love it! The musical is co written by Drag queen alumni Alaska. The album features a large ensemble cast including Alaska Thundrf*ck, Bob the Drag Queen, Brighouse's very own Divina de Campo, Ginger Minj, Jujubee, Lagoona Bloo, Peppermint, Monét X Change, Margaret Cho, Fortune Feimster, Michelle Visage, Max von Essen, and Nick Adams. There are plans to adapt the album into a live stage production.
Standout track: Drag Is Expensive https://www.youtube.com/watch?v=hmPKhKNOujQ
The Rocky Horror Picture Show (1975)
Tim Curry's emotional ballad near the end of Richard O Brien's Picture Show gets us every time  – by this moment Frank has loved and lost everything and everybody. It's ultimately a show about love, identity, and enjoying the an..tici…pation.
Standout track: I'm Going Home https://www.youtube.com/watch?v=j8bmjDoziaQ 
Kinky Boots (2012)
A smash, Smash hit, winning mountains of awards, with music and lyrics by Cyndi Lauper and a book by Harvey Fierstein, and a stellar performance by Billy Porter.
Standout track: Not My Father's Son https://www.youtube.com/watch?v=eYIvgi-LkoY
The Prom (2016)
This Broadway smash became an uplifting film that has never left the Matinee playlist.
A group of down-on-their-luck Broadway stars shake up a small Indiana town as they rally behind a teen who just wants to attend prom with her girlfriend. See the film on Netflix. 
Standout track: It's Time to Dance https://www.youtube.com/watch?v=XaujIwZPJso
The Boy From Oz (1998)
One of Hugh Jackman's finest roles? Absolutely! Hugh Jackman is Not the Boy Next Door – honouring the life and music of Peter Allen, and the show is packed with Peter's wonderful songs.
Standout track: The Boy Next Door https://www.youtube.com/watch?v=2msnKvY8HzQ
Bare (2000)
This was recommended to us by Collabro's Thomas J. Redgrave – it's an incredible coming of age drama set in a Catholic boarding school. We still live in hope that the rumoured movie will happen.
Standout track: Bare (title track) https://www.youtube.com/watch?v=UL9Sn5hh9Bg
Torsten (2014)
One of the most graphic of all gay musicals out there – there are only so many songs from the Torsten trilogy we can play, but they are brutal, frank, joyous and poetic collection of tales performed by Andy Bell – and many are anthemic.
Standout track: Weston Super Mare https://www.youtube.com/watch?v=RVk0uj7Rke0
Lizard Boy (2015)
Justin Huertas' musical set in Seattle was one of the highlights of this years Edinburgh Fringe for Matinee and you can see why.
During a bizarre childhood accident, Trevor was drenched head to toe in dragon's blood. Growing green and scaly skin, he withdrew from the world. Tonight – 20 years later – Trevor meets a cute guy on a first date and ends up on an adventure of mythic proportions. Equal parts comic book lore and coming-of-age love story, Lizard Boy is the thrilling original rock musical that's been called 'ingenious' (San Francisco Chronicle), 'phenomenal' (MercuryNews.com) and 'ferocious and funny' (Seattle Times). Featuring the award-winning, original American cast and starring author/actor Justin Huertas.
Standout track: A Terrible Ride https://www.youtube.com/watch?v=CwsmkLxGcoo
The View UpStairs (2017)
The View UpStairs, written by Max Vernon, is a provocative new musical that pulls you inside the UpStairs Lounge, a vibrant '70s gay bar in the French Quarter of New Orleans. The forgotten community comes to life when a young fashion designer from 2017 buys the abandoned space, setting off an exhilarating journey of seduction and self-exploration that Entertainment Weekly calls "a moving homage to LGBT culture, past and present." Filled with "beautiful love songs performed by a soulful ensemble cast" (The New Yorker), it's "an eye-popping roller coaster for the visual senses" with "a jambalaya of sexed-up tunes!
Standout track: Theme Song https://www.youtube.com/watch?v=B2h1WgNVAhc 
Taboo (2002)
The musical of Boy George's life, through his music, with book by Mark Davies and direction by Christopher Renshaw.
Standout track: Il Adore https://www.youtube.com/watch?v=HYEUKZXA4es
Once More With Feeling (2001)
When Amber Benson's character Tara fell in love with Willow it was a pivotal moment in the television series, and their musical episode was also groundbreaking. Sadly – as Tara sings wistfully about being under Willow's spell – she actually was. And all through this song the viewers knew of the bittersweet irony, and the problems that followed. This is one musical without a happy ending for anybody.
Standout track: Under Your Spell https://www.youtube.com/watch?v=giqkWIvSy4I
Rent (1996)
Rent itself isn't a gay musical per say but it's about a community filled with LGBTQ characters, and it's that sense of community we're celebrating in this list because Love is Love – and from Rent here's the anthemic "Seasons of Love."
Standout track: Seasons of Love https://www.youtube.com/watch?v=UvyHuse6buY
Zero Patience (1994)
A film musical that dealt with AIDS in an important, uncompromising and at times uplifting way, Maybe one day we'll see this on stage, but it will take a creative director to stage the singing asses…
Standout track: Zero patience (title track) https://www.youtube.com/watch?v=XboL_RWllAQ
What the World Needs Now Is Love
In 2016 one of the U.S.'s worst mass shootings in history took place at Orlando's Pulse nightclub. 49 lives were lost and many more were wounded. In the days that followed the Broadway community came together to spread a message of hope. It includes Sara Bareilles, Matthew Broderick, Gloria Estefan, Joel Grey, Carole King, Idina Menzel, Lin-Manuel Miranda, Rosie O'Donnell, Billy Porter and Keala Settle – simply saying that Love is Love and What The World needs Now…is Love
Standout track: https://www.youtube.com/watch?v=t5AyGvJcyoU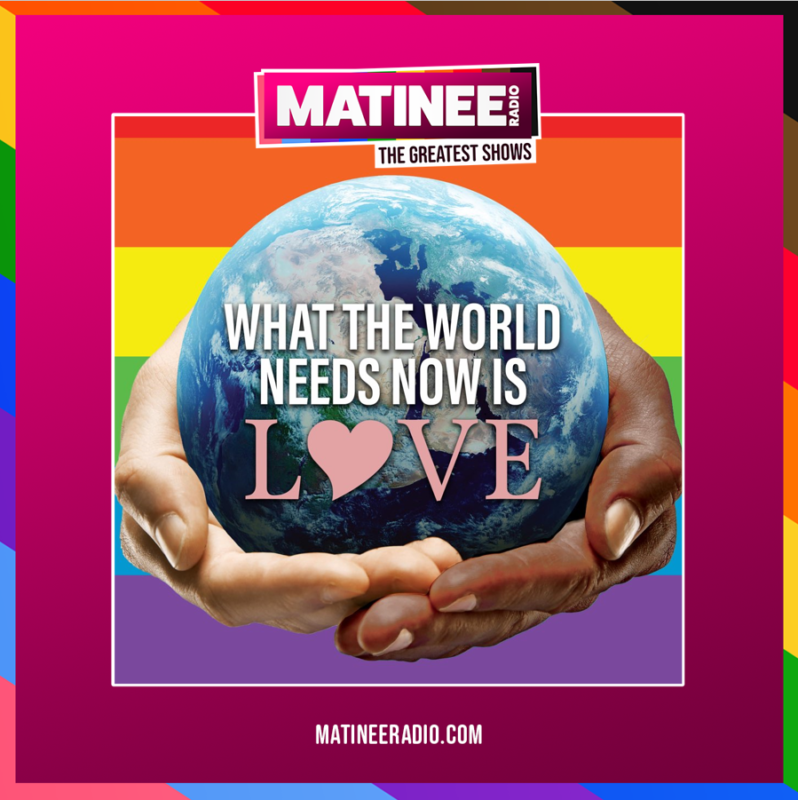 ---