The Idiots Assemble this May
The Idiots Assemble this May
23-03-23
Idiots Assemble: Spitting Image The Musical written by a tour de force comedy team made up of Al Murray (The Pub Landlord) Matt Forde (The Political Party) and double Olivier award winner Sean Foley (The Upstart Crow, The Play What I Wrote) makes its West End Premiere at the Phoenix Theatre in London.
Critically acclaimed when it was developed at the Birmingham Rep earlier this year, the show is directed by the Rep's Artistic Director Sean Foley alongside a creative team spearheaded by the original Spitting Image co-creator, Roger Law.
Introduced by Master of Ceremonies Sir Ian McKellen, the musical features a stellar line-up of over 100 puppets of the great and the not so good. Tom Cruise is tasked by His Majesty The King to create the UK's very own 'Magnificent Seven' of celebrity misfits – Tom Cruise, Greta Thunberg, Meghan Markle, Tyson Fury, RuPaul, Angela Rayner and Idris Elba – to save the nation from a cabal of dark forces seeking to destroy it – that's all the usual suspects. And James Corden. They are joined by: Ant & Dec, Donald Trump, Elon Musk, Keir Starmer, Stormzy, Vladimir Putin, The Tory Party Cabinet and many many many many many more.
'When Spitting Image first appeared on British TV it blew people's minds,' said Al Murray 'Now it's going to do it all over again in the West End. All the elements the show was famed for: outrageous depictions of the great and the not so good, catchy songs, famous faces saying the things you've always wanted to hear them say, all reinvented for the stage. You won't know where to look!'
Matt Forde commented: 'Nothing can prepare you for what you're about to see, it's the wildest show in the West End. I don't want to give anything away, but you'll never look at Suella Braverman in the same way again.'
Sean Foley added: 'I'm thrilled that Spitting Image The Musical is set to transfer to the West End. Audiences at Birmingham Rep, where the show premiered, loved the classic Spitting Image mix of political satire, celebrity send up and Royal family soap opera. With Rishi Sunak and Angela Rayner battling it out, Tom Cruise making his theatrical debut and Adele singing her heart out, I hope this uniquely anarchic musical will continue to make people laugh.'
The full creative team is: Director Sean Foley, writers Al Murray, Matt Forde and Sean Foley, Caricaturist Supremo Roger Law, Set Designer, Alice Power, Video Designer Nina Dunn for Pixel Lux, Lighting Designer Tim Mitchell, Puppet Master Scott Brooker, Costume Designer Lotte Collet, Choreographer Lizzi Gee, Incidental Music Composer and Musical Director Alexander S. Bermange, Incidental Music Arranger and Producer Jerome van den Burghe, Creators of Spitting Image Peter Fluck and Roger Law, General Manager Emma Brunjes for ebp, and Producers Richard Allen-Turner and Jon Thoday for Avalon.
The BAFTA and Emmy award-winning satirical Spitting Image television series originally ran for 18 series between 1984 and 1996, and was watched by over 15 million viewers. It recently made a popular return to TV on BritBox, where across official social media channels, Spitting Image content has been hugely popular with over 200 million views globally, three number 1 trending videos on YouTube and achieved critical praise across the political divide. Three one-off specials for ITV have also seen huge success on terrestrial television: with a 4.4 million audience achieving ITV's highest Saturday night ratings at that time in four years.
Idiots Assemble: Spitting Image The Musical will run from Wednesday 24 May to Saturday 26 August 2023.
Tickets are now on sale from the official site HERE.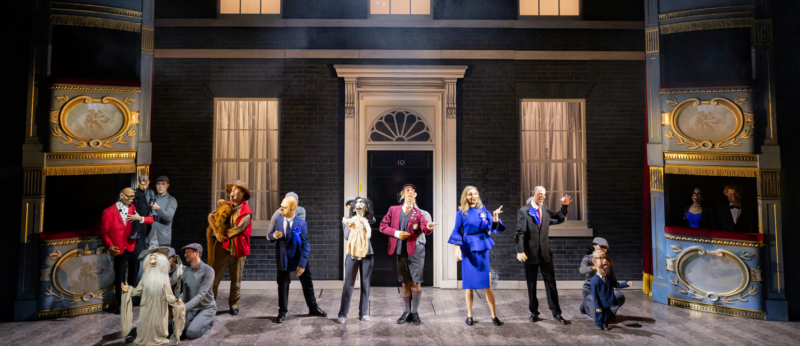 ---