West Side Story meets Cabaret… at London's Proud

West Side Story meets Cabaret… at London's Proud
West Side Cabaret Story sees a classic tale turned on its head. Featuring the world's leading burlesque icons, breath-taking acrobats and jaw-dropping fire performers, this is the ultimate story of passion and rivalry, with an ingenious twist that sees immersive theatre at its best.
Proud offers an immersive, modern interpretation; with mashups of favourite songs from West Side Story mixed with contemporary tracks. West Side Cabaret story takes you into a world of razzle-dazzle, for a fabulously entertaining theatrical experience, as two gangs battle it out for their final place on the West End stage.
Alex Proud, Proud CEO remarks – 'I am thrilled to bring a brand-new immersive experience to the West End. This will be more than a stage show, guests will truly be part of the cast from the moment they enter the venue. From picking their gang, to joining dance battles, the audience will help to tell our version of the story as it unfolds on stage. We can't wait to blow London away with this new concept!
An evening of pure indulgence and escapism will unfold. Experience exquisite fine dining with a sumptuous three-course menu, exclusively designed and made in Proud's kitchen using only the freshest produce. Indulge in decadent cocktails carefully curated by in-house mixologists and paired with first-class service.
Guests will choose their side of the feud, as the cast falls into two cliques of spectacular performers including, world-famous illusionist and master of fire, Shade Flamewater. Darlings of the Moulin Rouge J'Adore La Vie will bring their haute couture burlesque to the scuffle and the infamous burlesque show ghoul, horror diva and Brazilian bombshell Marie Devilreux is set to astonish.
Husband partners, Duo Little Finch will leave audiences stunned with their mind-blowing hand balance acts, international burlesque sensation Jake Dupree will set hearts racing, and multi-talented Emily Winters will be showcasing her dare-devil hair hang act whilst playing classical violin – A sight that must be seen to believed!
Proud aims to ensure their guests have an unforgettable evening. With flirtatious dance numbers to join in with and racy performances from world-renowned cabaret artists, aerialists and circus performers, every moment is designed to impress, scare, wow, and captivate the audience.
Having benefited from considerable investments in the venue to include all Covid-19 safety measures, Proud Embankment has undergone a complete renovation, making it the most glamorous and Instagrammable venue in the capital.
Proud ensures that customers get the experience of a lifetime in the safest possible environment with a triple lockdown guarantee that means that if government guidelines force a show to be cancelled, Proud offers a full refund, free date change.
Proud Embankment is located in an iconic heritage building at the heart of the West End, situated underneath Waterloo Bridge on the North bank of the River Thames.  The UK's largest and most glamorous venue dedicated to the artform of Cabaret.  Make a grand entrance into the spotlight on our central stage, relax into our luxury banquettes, peep behind the red curtain, and breathe in excitement.
Get more details from the official website.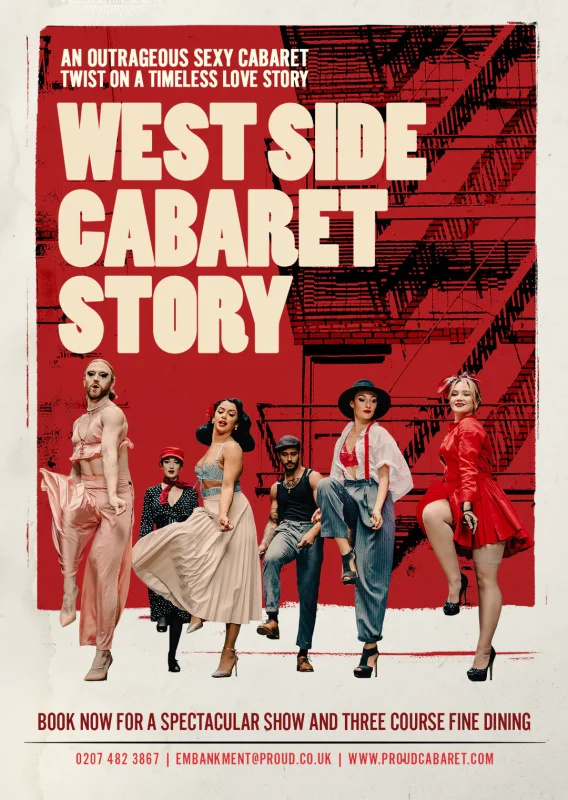 ---