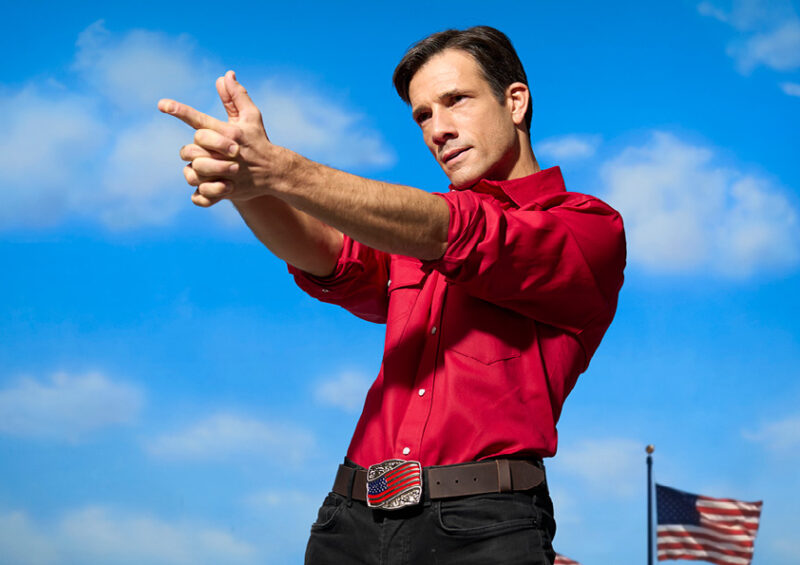 Cast News: Assassins
24-04-23
Audiences will be catapulted into the American political arena where music, folklore and showbusiness collide head-on with the American Dream, for the first major production of Stephen Sondheim's musical ASSASSINS since the composer's death in 2021. Directed by Polly Findlay, it will run at Chichester Festival Theatre from 3 – 24 June.
The full company is Amy Booth-Steel (Tammy Faye, The Magician's Elephant) as Moore, Daniel Bowskill (Let's Face The Music) as Onstage Swing, Luke Brady (The Prince of Egypt, Sweeney Todd) as Zangara, Lizzy Connolly (Sweet Charity, On The Town) as Balladeer 2, Ivan De Freitas (& Juliet, Jesus Christ Superstar) as Bystander 2, Carly Mercedes Dyer (Olivier Award nominee and WhatsOnStage Award winner for Anything Goes) as Fromme, Peter Forbes (Follies, Singin' in the Rain) as The Proprietor, Bob Harms (Pretty Woman, Come From Away) as Bystander 1, Harry Hepple (Hamilton, Follies) as Guiteau, Nick Holder (The Threepenny Opera, London Road) as Byck, Charlotte Jaconelli (The Wizard of Oz, Heathers The Musical) as Goldman, Danny Mac (Sunset Boulevard, Pretty Woman The Musical) as Booth, Kody Mortimer (Hex, Hairspray) as Bystander 4, Sam Oladeinde (Come From Away, A Christmas Carol) as Czolgosz, Jaimie Pruden (Beauty and the Beast, Company) as Onstage Swing, Jack Shalloo (Girl From The North Country, Groundhog Day) as Hinckley, Liam Tamne (Wuthering Heights, Bonnie and Clyde) as Balladeer 1, and Samuel Thomas (The Normal Heart, The Last Five Years) as Oswald/Balladeer.
Assassins is full of high drama, with musical influences ranging from The Carpenters and James Taylor to American folk songs and Scott Joplin. With music and lyrics by Stephen Sondheim and book by John Weidman, this Tony Award-winning biting musical comedy takes us on a daring, time-bending journey through American history.
A surreal carnival. And a group of people who have one thing in common: they want to assassinate the President of the United States. Some succeed, some fail. But there's a prize for them all: a place in the history books.
John Wilkes Booth. Lee Harvey Oswald. Leon Czolgosz. Lynette "Squeaky" Fromme. John Hinckley. Charles Guiteau. Sara Jane Moore. Giuseppe Zangara. Samuel Byck. Men and women whose fervour took them to the very edge.
For audiences, the experience will begin as soon as they step into the theatre foyer, where smells, sights and sounds will sweep them into the carnival. A giant of musical theatre, celebrated for the inventive sophistication of his melodies and lyrics, Sondheim died in 2021. His landmark works also include Company, Follies and Sweeney Todd.
John Weidman's Tony Award-winning works include Contact as well two further collaborations with Sondheim, Road Show and Pacific Overtures. Director Polly Findlay makes her CFT debut. Her recent productions include White Noise and A Number (Bridge Theatre), Beginning and Middle (National Theatre) and The Prime of Miss Jean Brodie (Donmar Warehouse). The designer is Lizzie Clachan, and the choreographer, Neil Bettles; musical supervisor Richard John, musical director Jo Cichonska, orchestrator Michael Starobin, lighting designer Richard Howell, sound designer Gregory Clarke, video designer Akhila Krishnan, fight director Kate Waters, and casting directors Charlotte Sutton CDG and Christopher Worrall.
Get more information from the official site HERE.
---