Doctor Who heads for Broadway
Written by Jamie Griffiths on February 28, 2023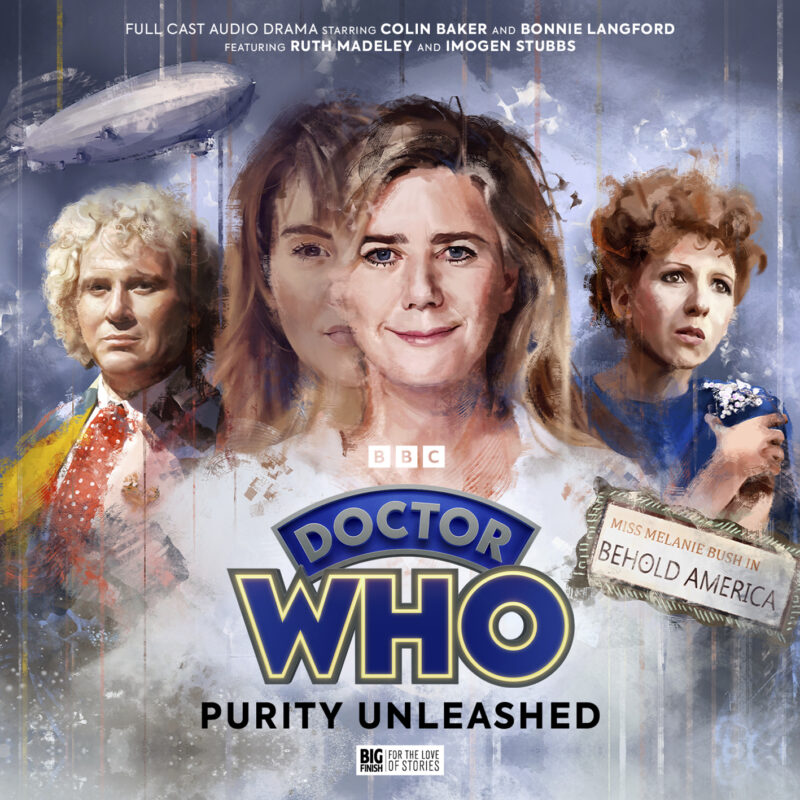 Doctor Who heads for Broadway
28-02-23
Story details have been revealed for forthcoming audio box set, The Sixth Doctor Adventures: Purity Unleashed, due for release in May 2023 from Big Finish Productions. Colin Baker (the Sixth Doctor) and musical legend Bonnie Langford (Melanie Bush) star in three full-cast audio adventures, which begin in 1930s Broadway!
Marine biologist Hebe Harrison (Ruth Madeley) has vanished from the timelines and the Doctor and Mel must find a way of getting their new friend back! But little do they realise what perils lie ahead – or who stands against them…
The three high-stakes stories in the box set are as follows:
Broadway Belongs To Me! by Matthew Sweet
The Doctor and Mel begin their search for Hebe in 1930s New York, where history is taking a dark turn all of its own. On Broadway, they discover a genuine aberration of the timestreams: Behold America! – a hot shoe show set in a future Fascist United States. Starring Melanie Bush. Opening tonight…
Purification by Chris Chapman
The Doctor and Mel follow the trail to a port in New Zealand, 1910. A ship is being prepared for a journey to Antarctica and the Doctor realises that this is Captain Scott's Terra Nova expedition. But this is merely the beginning of an intricate scheme to rewrite the future of humanity.
Time-Burst by Ian Potter
Tracking the anomaly that erased Hebe from history, the Doctor and Mel find an instability in Sheffield, 1864. Who is Mrs Virtue, the mysterious owner of the new steelworks? And can the Doctor untwist history before a natural disaster washes them all away…?
Script Editor Robert Valentine said: "Following the cliffhanger at the end of Chronomancer (the finale of Purity Undreamed), the Doctor and Mel know something terrible has happened to Hebe, but the full scope and horror of it is yet to hit them. In this set, they're going to discover just how much danger history and the human race is in, and there's very little time to stop it."
Doctor Who – The Sixth Doctor Adventures: Purity Unleashed is now available to pre-order as a collector's edition 3-disc CD box set or download only, exclusively from the Big Finish website here. 
This is not the first Doctor Who musical release from Big Finish Productions  – 2003's Doctor Who and the Pirates also saw Colin Baker's Doctor burst into song in a critically acclaimed adventure.
https://www.youtube.com/watch?v=A_-nOGMu6TM
---