I Should Be So Lucky – The Official Stock Aitken Waterman Musical
I Should Be So Lucky – The Official Stock Aitken Waterman Musical
21-03-23
Ambassador Theatre Group Productions have announced the World Premiere of the official Stock Aitken Waterman musical I Should Be So Lucky. Written and directed by Debbie Isitt and choreographed by Jason Gilkison, the show will open at the Manchester Opera House on 1 November 2023 and play the Christmas season at Leeds Grand Theatre & Opera House from 12 – 30 December 2023 as part of a UK tour.
Mike Stock said today "We have been approached many times over the years to authorise a musical using the songs from the Stock Aitken Waterman catalogue and have always resisted, until now! What Debbie, Jason and the team behind the show have created is a truly original and shamelessly enjoyable rollercoaster ride through our hits."
Debbie Isitt said today "The music of Stock Aitken Waterman has been the soundtrack to both my life and the lives of all my friends. Their songs range from wonderful ballads to real pop anthems to dance floor classics, which are all perfect for an original musical."
The Wedding is OFF, but the Honeymoon is ON! Head from the aisle to the isles in the official Stock Aitken Waterman musical featuring the soundtrack of a generation with music from pop royalty including Kylie Minogue (I Should Be So Lucky), Rick Astley (Never Gonna Give You Up), Jason Donovan (Especially For You) and Bananarama (Love In The First Degree). I SHOULD BE SO LUCKY features no less than 10 Number 1 singles and over 30 songs from the Hit Factory whose music defined an era. Ella and Nathan, a young couple, hopelessly in love and about to take the biggest step of their lives – marriage. Until it doesn't go quite to plan. Will they be together forever, or will he make her cry and say goodbye?
I Should Be So Lucky is written and directed by Debbie Isitt (the hit Nativity! franchise), choreographed by Jason Gilkison (Creative Director of Strictly Come Dancing and Eurovision 2023), with orchestrations and musical direction by George Dyer and set and costume design by Tom Rogers. It is produced by Ambassador Theatre Group Productions and Gavin Kalin Productions.
Get more details from the official website HERE.
MONDAY 1 – SATURDAY 25 NOVEMBER 2023
MANCHESTER OPERA HOUSE
ON SALE 22 MARCH 2023
MONDAY 27 NOVEMBER – SATURDAY 2 DECEMBER 2023
WALES MILLENNIUM CENTRE, CARDIFF
ON SALE 31 MARCH 2023
MONDAY 4 – SATURDAY 9 DECEMBER 2023
PLYMOUTH THEATRE ROYAL
ON SALE SOON
TUESDAY 12 – SATURDAY 30 DECEMBER 2023
LEEDS GRAND THEATRE & OPERA HOUSE
ON SALE 27 MARCH 2023
TUESDAY 23 – SATURDAY 27 JANUARY 2024
MAYFLOWER THEATRE, SOUTHAMPTON
ON SALE 21 MARCH 2023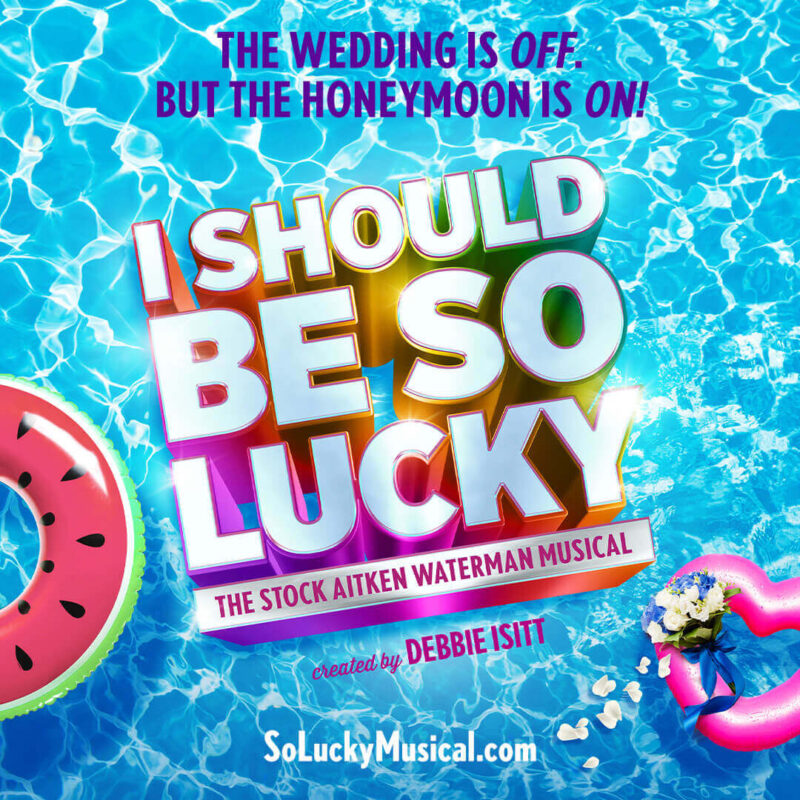 ---