Love Will Change Everything from the 12th of May

Love Will Change Everything from the 12th of May
22-03-23
34 years after having starred in the original West End production, Michael Ball returns to Andrew Lloyd Webber's celebrated musical Aspects of Love at the Lyric Theatre for a strictly limited season, this time playing the role of George.  It has been announced that Olivier Award-nominated Laura Pitt-Pulford joins the cast of Aspects of Love to play Rose, Anna Unwin will play Jenny and the internationally renowned soprano, Danielle de Niese will play Giulietta. They join the previously announced Jamie Bogyo, who will play Alex, the role originated by Michael in 1989. Performances begin on 12 May 2023.
In ravaged post war France, beautiful actress Rose Vibert finds herself homeless and penniless after her hoped-for career break play closes early. Invited to a country villa by a love struck young American, Alex Dillingham, she impulsively accepts. When unexpectedly interrupted by Alex's distinguished uncle George, everything changes.  So begins a tumultuous 20-year love story, entwining the three of them and George's mistress, the feisty artist Giulietta. Everything changes once again when Rose's daughter Jenny turns 18.  From the cobbled streets of Paris, through the French countryside to the splendours of Venice, Aspects of Love is a sweeping romantic story of passion, love, betrayal and heartbreak across three generations.
Michael Ball says:
"I feel privileged and very lucky to introduce our fabulous leading ladies joining me in Aspects of Love. The incredible Laura Pitt-Pulford who is no stranger to the West End as Rose and the divine Danielle de Niese, the renowned opera singer, as Giulietta. Making her West End debut as my daughter Jenny, a wonderful new talent, Anna Unwin. I couldn't be happier. First day of school, Monday!"
Danielle de Niese says:
"I fell in love with Andrew Lloyd Webber's beautiful score and melodies as a child and now even more so with these gorgeous new orchestrations which are so rich and romantic. I am so excited about playing and exploring my fantastic character, Giulietta and returning to the West End. Working with Laura Pitt-Pulford and Jamie Bogyo will be great fun and sharing the stage with the inimitable Michael Ball will be beyond amazing!"
Producer Nica Burns says:
"This is the first production to be mounted especially for the West End since the original 1989 production and the creative team and cast under Jonathan Kent's direction are enjoying exploring the story from a 21st century perspective. Michael Ball, so brilliant as the original Alex and whose idea this production was, is now playing George and of course singing Love Changes Everything. We are delighted to share a video of our orchestra call of Seeing is Believing, one of our beautiful melodies, sung by Laura Pitt-Pulford and Jamie Bogyo, which will give you a feel of our new orchestra configuration."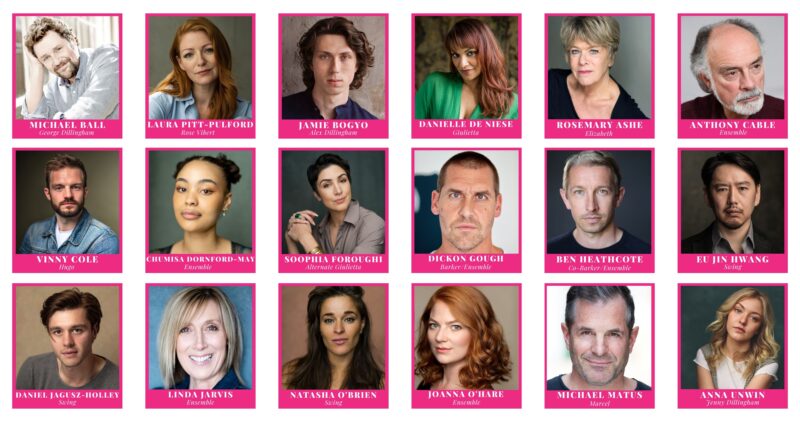 Laura Pitt-Pulford was nominated for a 2016 Olivier Award for her performance as Millie in Seven Brides for Seven Brothers at the Open Air Theatre, Regents Park. She also played Betty Shaefer in Sunset Boulevard at the Harold Pinter theatre in 2008. Her other credits include the title role in Nell Gwynn on tour and at the Globe theatre, Falsettos at the Other Palace and The Sound of Music at Leicester Curve.
Hailed by the New York Times Magazine as 'Opera's Coolest Soprano', Danielle de Niese has been thrilling audiences worldwide from the Metropolitan Opera to Covent Garden and La Scala. But before all this, she won an Emmy Award as a TV host at 16 and made her Broadway debut at 18 in Les Miserables.
Now, coming full circle, having garnered rave reviews for her West End debut as Aldonza alongside Kelsey Grammer in Man of La Mancha, and wide recognition as a highly respected multi genre artist, she returns to her roots in musical theatre. She has recorded 4 solo albums exclusively for Decca/Universal, performed at Carnegie Hall with rapper LL Cool J, and with pop star Mika for ITV plus headlined the BBC global broadcast of "Last Night of the Proms" singing a Julie Andrews medley for the Sound of Music 50th Anniversary, at Hyde park and Royal Albert Hall.
She reopened the Sydney Opera House on New Year's Eve breaking box office records in the musical theatre production of Lehar's The Merry Widow as Hanna Glawari, and most recently starred in the highly acclaimed film version of Poulenc/Cocteau's one-woman show La Voix Humaine (Trademark Films) for BBC Two.
With music by Andrew Lloyd Webber and lyrics by Don Black and Charles Hart, based on the novel by David Garnett, Aspects of Love is directed by Jonathan Kent. Aspects of Love at The Lyric Theatre is produced by Nica Burns, by arrangement with The Really Useful Group Limited. Further casting is yet to be announced.
For more information and tickets, please see the official site HERE. 
---