Review: Singin' In The Rain
Written by Kyle Evans on May 13, 2022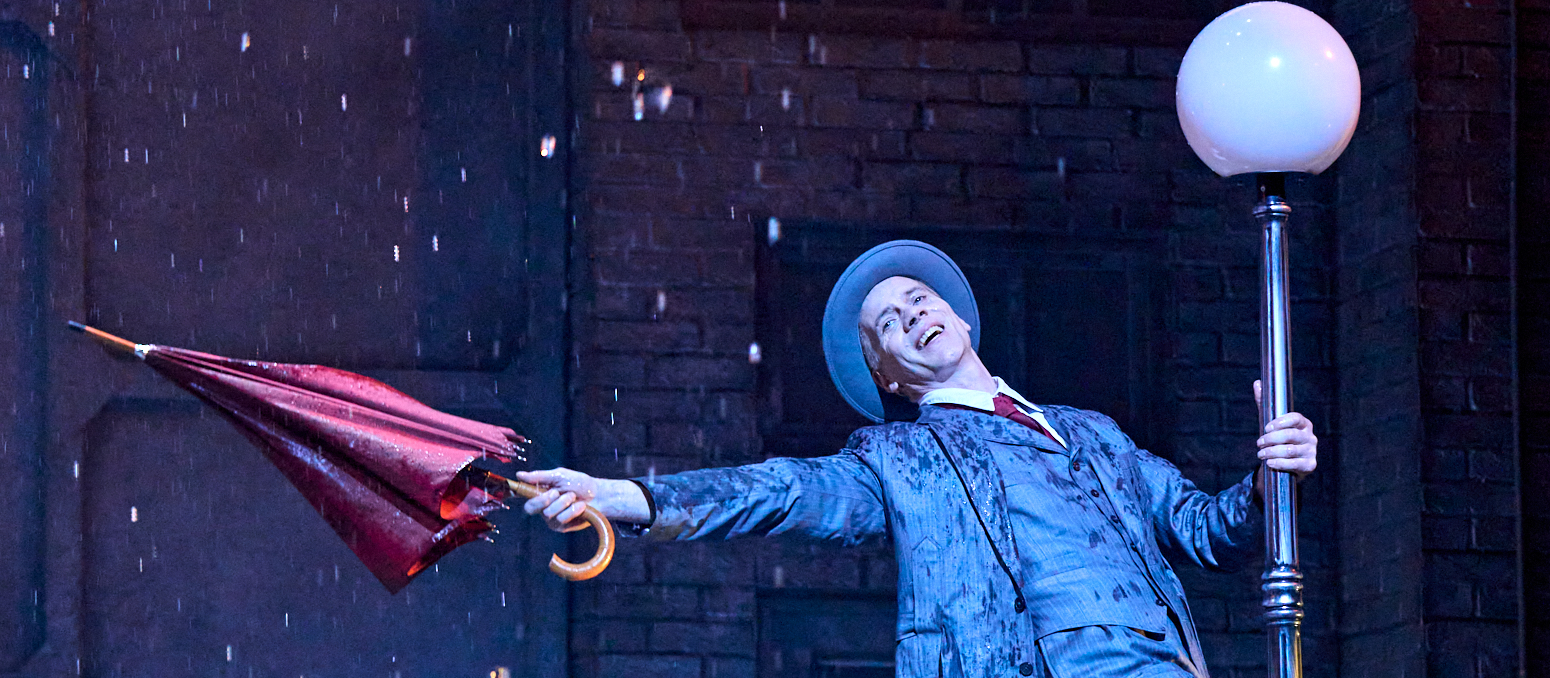 Review: Singin' In The Rain
10/05/2022
by Tiffany Chevis at Manchester Opera House
Bursting with charm and the charisma of a bygone era, Singin' in the Rain is storming across the UK in its latest tour.
Whilst one or two of the early scenes may not sit so comfortably with a modern audience – the approach to the female dancers could perhaps be altered without affecting the storyline – the production is filled to the rafters with excellent dance numbers and rousing music.
Following Don Lockwood and Lina Lamont – silent movie on-screen sweethearts – as they are faced with the development of 'all talking' movie technology, the story unravels the secrets of Hollywood, the realities of fame, and the pressures of performing.
Adam Cooper's Lockwood is as you would expect – flawless dancing, buttery vocals, effortlessly debonair. The Manchester production sees Charlotte Gooch in the role of Kathy Selden and Jenny Gayner as Lamont, with Gayner in particular to be applauded for maintaining such difficult vocals throughout. The UK tour casts a different 'feature' performer by location – with Faye Tozer taking on the role of Selden and Kevin Clifton as Cosmo Brown elsewhere.
But it was Ross McLaren's Cosmo Brown that stole the show. With impeccable timing and an infectious grin, his comedic quips were matched by strong vocals and impressive choreography. The classic number Make 'em Laugh brought physical comedy without falling into pantomime and showed off McLaren's skills, whilst Moses Supposes, alongside Cooper and Alastair Crosswell as the Dialect Coach, was a masterclass of diction and footwork.
The crowd-pleaser is of course the titular number, with an impressive amount of rain filling the stage (and the front row!). But arguably the showstopper is Gotta Dance, with an explosion of colour and sparkle to lift the second half.
A show to bring a smile to your face and get your toes tapping – and look differently at the rain on your way back home.
---